USS Barb
---
Allied Nations
---
Axis Nations
---
Neutral Nations/Installations
---
Sets
Unit Card: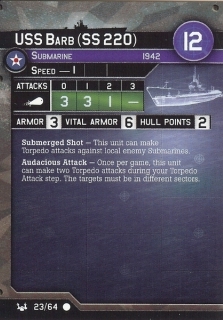 Set - Rarity - Number
War At Sea - Common - 23/64
History:
Reviews:
LuckyE77
Barb is a solid sub, Audacious attack can be useful when many ships come into range. This ship can be useful, but her range is a huge draw back. 3-3-1 cant do much, when her Japanese counterparts can hammer her at range three, and range two with little resistance.
anonymous
The above review may be correct (that the Barb is not the world's strongest sub), but note that the part about Japanese subs is inaccurate. Subs can only make submerged shots against enemy subs in the same sector as them. This is a common mistake, but it is a mistake.
Plastic Figure Notes:
page revision: 6, last edited: 27 Aug 2011 07:26