USS Fletcher
---
Allied Nations
---
Axis Nations
---
Neutral Nations/Installations
---
Sets
Unit Card: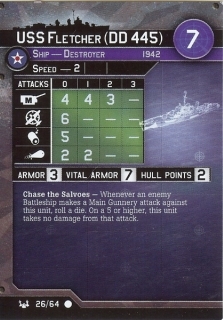 Set - Rarity - Number
War At Sea - Common - 26/64
History:
Reviews:
LuckyE77
Fletcher is a decent destroyer, however it is outclassed by others of it's class. She can be useful in small point games, however with only range one torpedoes it's chase the salvos special ability will really be stretched if you charge a BB. But once again, Hoel does a better job at that.
Plastic Figure Notes:
page revision: 5, last edited: 27 Aug 2011 07:24