USS Midway
---
Allied Nations
---
Axis Nations
---
Neutral Nations/Installations
---
Sets
Unit Card: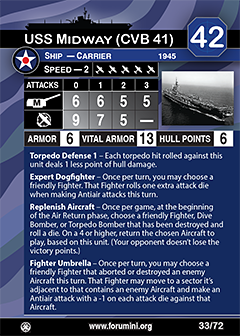 Set - Rarity - Number
All Hands on Deck - N/A- 33/72
History:
USS Midway (CVB/CVA/CV-41) was an aircraft carrier of the United States Navy, the lead ship of its class. Commissioned a week after the end of World War II, Midway was the largest ship in the world until 1955, as well as the first U.S. aircraft carrier too big to transit the Panama Canal. A revolutionary hull design, based on the planned Montana-class battleship, gave it better maneuverability than previous carriers.[verification needed] It operated for an unprecedented 47 years, during which time it saw action in the Vietnam War and served as the Persian Gulf flagship in 1991's Operation Desert Storm. Decommissioned in 1992, it is now a museum ship at the USS Midway Museum, in San Diego, California, and the only remaining U.S. aircraft carrier of the World War II era that is not an Essex-class aircraft carrier.
Reviews:
Plastic Figure Notes:
page revision: 1, last edited: 25 Apr 2016 17:54