USS Tennessee
---
Allied Nations
---
Axis Nations
---
Neutral Nations/Installations
---
Sets
Unit Card: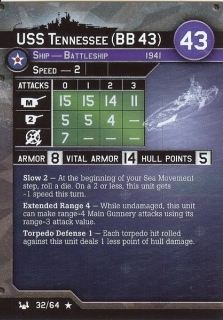 Set - Rarity - Number
War At Sea - Rare - 32/64
History:
USS Tennessee (BB-43) was commissioned in 1920 and was part of the "Big Five" of the US battle line. She served most of her career in the Pacific theater. While surviving the attack at Pearl Harbor, she was to slow for active service with the carrier task forces and thus early on in the war was used for rear area escort. From August 1942 to May 1943, she was modernized with better AA armament and secondary weapons. Tennessee went on to be used on the "gun line" in order to support amphibious operations in the Aleutians, Tarawa, the Philippines, Iwo Jima and Okinawa. The Big T fought in the last battleship on battleship engagement in the Battle of Suriago Strait.
Reviews:
RaySpruance
USS Tennessee is a general mid-range priced battleship. While Slow 2 is a drawback, she has Torpedo Defense and Extended Range 4, adding reach to the Big T. Overall, a solid if unspectacular battleship.
Plastic Figure Notes:
Montyburns1982
Plenty of detail, but it's an odd shape and the bendy turrets are horrible.
page revision: 5, last edited: 06 Nov 2012 20:55