Vittorio Veneto
---
Allied Nations
---
Axis Nations
---
Neutral Nations/Installations
---
Sets
Unit Card: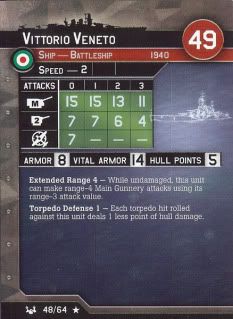 Set - Rarity - Number
War at Sea - Rare - 48/64
History:
Vittorio Veneto was the second member of the Littorio class of battleships that served in the Italian Regia Marina (Royal Navy) during World War II. Her keel was laid down in October 1934, she was launched in July 1937, and she was readied for service with the Italian fleet by August 1940. She was named after the Italian victory at Vittorio Veneto during World War I, and she had three sister ships: Littorio, Roma, and Impero, though only Littorio and Roma were completed during the war. She was armed with a main battery of nine 381-millimeter (15.0 in) guns in three triple turrets, and could steam at a speed of 30 knots (56 km/h; 35 mph).
Vittorio Veneto saw extensive service during the war and participated in the Battle of Cape Spartivento in November 1940 and the Battle of Cape Matapan in March 1941. She was damaged by torpedoes several times, including in the engagement off Cape Matapan and by the British submarine HMS Urge in December 1941, though she escaped undamaged during the British raid on Taranto in November 1940. She spent 1941 and early 1942 attempting to attack British convoys to Malta, but crippling fuel shortages in the Italian fleet curtailed activity thereafter. Vittorio Veneto was among the Italian ships that were surrendered to the Allies in September 1943 after Italy withdrew from the war, and she spent the following three years under British control in Egypt. After the war, she was allocated as a war prize to Britain and subsequently broken up for scrap.
Reviews:
Lobukia
If you have a Vittorio Veneto and a Littorio, spend the extra point and gain the Sharpshooting SA. Otherwise use the Veneto just like you would a Littorio (Go ahead, click on the "Littorio" in blue to go read its review… kinda silly for me to type everything twice).
Plastic Figure Notes:
Aran55633
I like it. Cool paint job, in my humble opinion. Without doubt the best Italian ship, and one of the best in general.
page revision: 7, last edited: 17 Dec 2015 14:43